Little Phoenix Kids Kung Fu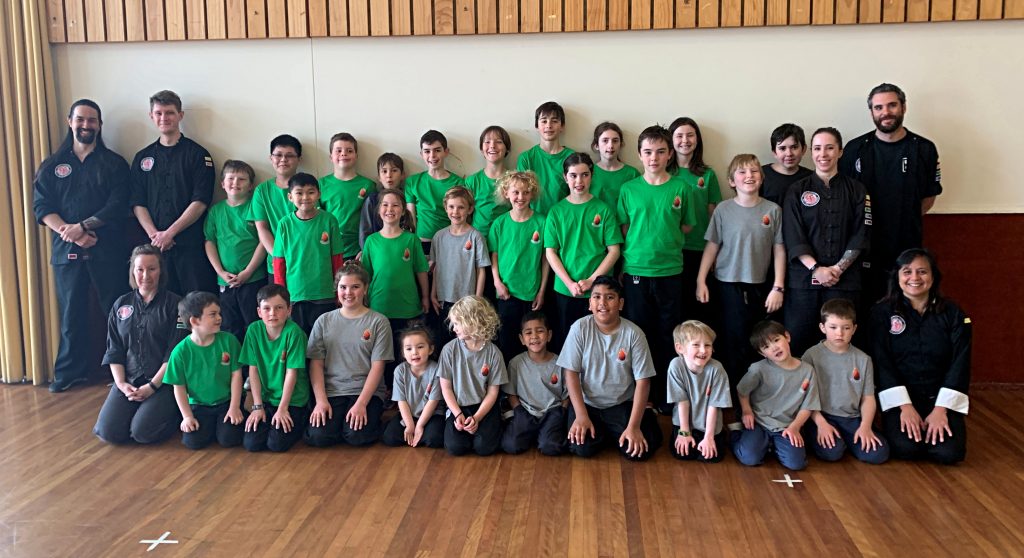 The Little Phoenix kids classes cater for primary school aged children (ages 4-15 with some exceptions) and use basic Kung Fu martial skills to improve and develop:
Co-ordination and reflexes
Confidence – increased confidence gained through martial arts training can be a strong deterrent in dangerous situations
Respect for self and others
Concentration and self-discipline
Situational awareness – can prevent a conflict from even occurring
Emotional awareness – learning to control one's emotions under duress
Students are taught physical and martial skills as well as how to have the confidence and body awareness to de-escalate a conflict over resorting to physical violence. This is an invaluable life lesson that children use moving forward into adulthood.

---
Class Times
Little Phoenix kids class runs twice a week on Tuesdays and Sundays.
We commence classes in line with the ACT School Terms.
Students are welcome to join at any time during a term.
Lessons continue on Public Holidays.
Tuesday 5:30pm – 6:20pm
Sunday 9:30am – 10:20am
2020 Timetable
Term 1: Tuesday 4 February 2020 – Tuesday 7 April 2020
Term 2: Tuesday 28 April 2020 – Tuesday 30 June 2020
(Paused due to COVID-19)
Term 3: Tuesday 26 July 2020 – Tuesday 22 September 2020
Term 4: Tuesday 13 October 2020 – Tuesday 15 December 2020
---
Term and Annual Fees
Term fees
Single Child
1 Lesson a week = $110
2 Lessons a week = $190
2 or More Siblings
1 Lesson a week = $90
2 Lessons a week = $160
Term fees are due at the start of school term. Payment is per school term or part thereof.
If a student joins midterm, they will be discounted accordingly.
Annual Membership Fee
Capital Wing Chun Memberships fees are $100 for 12 months and includes:
Little Phoenix Uniform
Public liability and professional indemnity for the school
Personal injury for students accidentally injured in class for cover outside of Medicare.
Gradings, grading shirts and patches
---
Instructors
Capital Wing Chun Grade 5
Certified Canberra Wing Chun Academy Grade 3
Working with Vulnerable People Card
First Aid Certificate with Asthma and Anaphylaxis training
Kids Head Instructor – Georgia Cummins
Georgia has been a student of Wing Chun for 7 years, training with Instructor Brendan Bail since his first class at the Tuggeranong branch of Canberra Wing Chun.
Georgia is currently studying Practical Wing Chun under Sifu Anto Abramovic, and has also trained with Sifu Allan Graham (Canberra Wing Chun Academy) and Darren Elvey (Ving Tsun Combat Science, Melbourne). Georgia has been competing in the Australia National All Styles Martial Arts Competition circuit since 2016 and has earned medals at the national level for both Points and Continuous Sparring. She has over 5 years experience working with children at Lollipop's Playground & Cafe in Bentleigh East and working in after school care at Aranda Afters.
"I believe learning a martial art is useful in understanding one's body and its physical capabilities. Learning how to think, speak and move in a respectful but also fun environment is a fantastic opportunity to learn how to defend yourself and others from a young age."
Kids Class Instructors
L-R:
Quen – Grade 0
Sebastian – Grade 2
Georgia – Grade 5
Joe – Grade 4
Ali – Grade 3
All Kids Instructors hold a Working With Vulnerable Persons card
---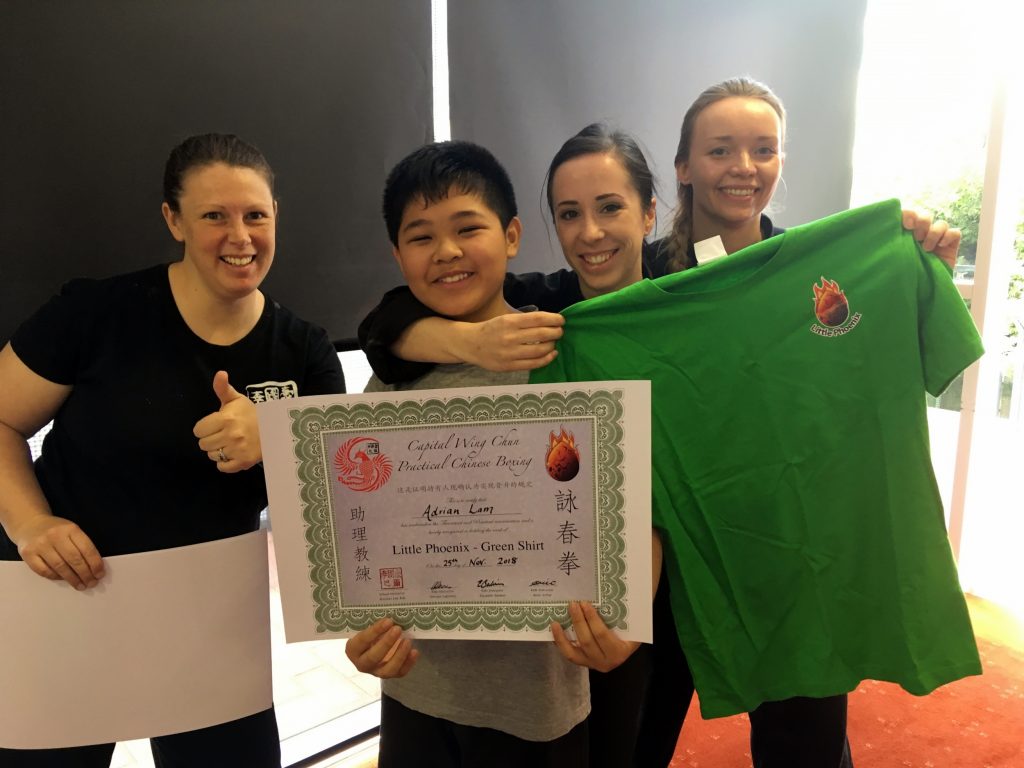 Grading
The Little Phoenix gradings are run twice yearly and are during the normal class times.

T-shirts are earned by the kids and awarded by Kids Class Instructors. They represent the student's experience (attendance) and application of the curriculum.
Grey shirt: Entry level. Learning outcomes to be demonstrated include: Class orientation and respect for the school environment, improved coordination, body awareness and communication.
Green Shirt: Earned after approximately 35 lessons (equivalent to 1 year of attendance). Learning outcomes to be demonstrated include: Practising basic Wing Chun stance, leg and hand techniques & developing self confidence.
Red Shirt: Earned after approximately 75 lessons (equivalent to 2 years of attendance). Learning outcomes to be demonstrated include: Demonstration of Wing Chun drills and basic self defense skills, situational awareness.
Black Shirt: Earned after approximately 125 lessons (equivalent to 3 years or more of attendance). Learning outcomes to be demonstrated include: Application of Wing Chun techniques, basic Chi Sao, trapping and light sparring, and student mentally and physically preparing to transition to the adult class. Sil Lim Tao (first form) in it's entirety. Students with a Black Shirt can transition to the Adults Class as a Grade 1 when at the appropriate age and skill level.
---
Wing Chun and Kids
Wing Chun Kung Fu is based on economy of movement, with the use of breathing, alignment of body movement for effective and efficient self-defense. The direct lines and simplicity and economy of movement of Wing Chun makes the style logical for kids to learn, and we enable and encourage the Little Phoenix's to apply techniques in safe but contact-effective scenarios.
The movements are practical rather than decorative or impressive. The whole school, adults class included, has a learning environment based on mutual respect and interest in gaining new knowledge and skills and this extends to our kids class. Each class is always a bit different; there is a core warm-up set, then varied exercises, drills, training and sparring, and a Wing Chun form at the end of class. The exercises and drills are often performed in pairs, with all student's learning from each other.
We also draw upon the skills of our adult members of the club and invite them to assist with classes from time to time, and use the educational pedagogy approaches from our experience and study in early childhood education to identify individual students learning needs.
This combination of teaching strategies in a creative learning environment provides your child(ren) with a diverse and tailored program that is unique to their learning and development.
All adults who assist in the classes must have a Working With Vulnerable Persons Card.

---
Private Lessons for kids are also available for current CWC Members.
Please get in contact with Georgia to discuss
Click the link below for more details